DeVon Hardin Doesn't Want You Eating His Lucky Charms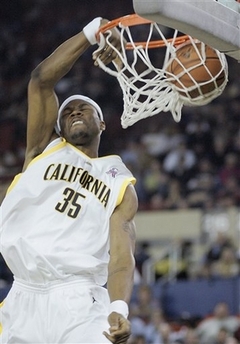 In a move that's been widely reported and expected, DeVon Hardin, the 6'11" Cal junior center, has declared himself eligible for the NBA draft. This decision comes despite the fact he only played 11 games the past year, although the lack of an agent allows us to contemplate his return. We think that the real reason he wants to leave is that in the NBA, he doesn't have to worry about teammates messing with his shit.
When Devon was a freshman, we used to mess with him all the time. They say picking on someone is only funny when they react, well, in Devon's case, it was alllwayyss funny. He had a rule that nobody mess with his food (cuz we would always eat it), and nobody could use his dishes (cuz we would never wash em).

One time, I went into his dorm and grabbed his box of lucky charms. I took out about a hand full of the cereal and made a line of lucky charms from his bedroom, through the long hallway, through the dining room and living room, and into the kitchen. Then I put a little big into a bowl and put like a teaspoon worth of milk and a spoon in there. It basically was to give the impression that, not only was cereal stolen, but it was eaten in cold blood haha. When Devon got home and saw all of it I guess he went crazy and was ready to fight everyone. Good times.
The draft report from November had him detailed as "looking hesitant and tentative at best" and "lazy and uninspired at worst"; if only those teams started swiping away his Gatorade cups. Then it's ON.
All options open: Cal's Hardin declares for draft, but doesn't hire agent [SF Chronicle]
Devon [Mac]
Picture from DraftExpress.com